Cornell University

Trees at Cornell University's research orchard this fall are heavy with waxy apples, deep-red, round apples, oblong apples and aromatic apples that smell like autumn.

Prom season can create a lifetime of memories, but many teenagers suffer experiences that carry a lifetime of consequences.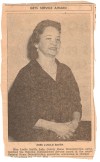 Are you over the age of 21? Are you currently pursuing a higher education in a trade school or college? If the answer to both of these questions is yes, you might be eligible for the Lucile Smith $500 scholarship offered by the Lake County Purdue Extension Homemakers.
Poll
Loading…
Should Lake County join the Shared Ethics Advisory Commission?