Council Of State Governments
Illinois-based small businesses that want to export goods overseas can look to the state government for help getting started.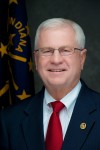 INDIANAPOLIS | State Sen. Ed Charbonneau, R-Valparaiso, traveled to Canada on Wednesday to participate in the annual Midwest-Canada Legislative Conference.

INDIANAPOLIS | A Gary state lawmaker and education expert has been selected to help shape education policy throughout the Midwest.

Poll
Loading…
Should Indiana have kept the Common Core standards for K-12 instruction?