Czech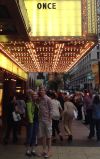 Phil Potempa's daily entertainment news column.

"Signs of Life" Musical Creator Virginia Criste

Virginia S. Criste, creator of "Signs of Life," a musical drama that unfolds the true story of the Czech ghetto Theresienstadt, describes her work as "one of the most fascinating and least known stories of the Holocaust."
Poll
Loading…
Should Indiana switch to open primary elections?