Dan Stum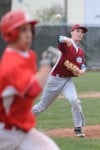 CEDAR LAKE | Each time Dan Stum hits the ball, he collects enough confidence to create that next hit.

Dan Stum, So., 3B/SS Nickname: Stumdaddy Favorite baseball team: Hanover Central Something people don't know about me: I don't eat the last bite of any sandwich. My favorite Coach Nelson moment or saying: "This is like a movie, isn't it?" Funniest thing that happened this year: when Dan Nowa…
Poll
Loading…
Should Indiana switch to open primary elections?