Denzel Smith
EAST CHICAGO | The East Chicago Public Library in collaboration with Indiana University Northwest will host a School-to-Prison-Pipeline panel discussion from 1 to 3 p.m. Saturday at the East Chicago Public Library, 2401 E. Columbus Drive.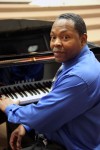 EAST CHICAGO | The name Dr. Leon Kendrick may bring instant appreciation and fondness by many in the East Chicago community, but to his students and former students, it's synonymous with inspiration.

Poll
Loading…
Should Indiana have kept the Common Core standards for K-12 instruction?