Derby

Roller derby, a sport that originated in the early 20th century, has experienced a grassroots resurgence in recent years thanks to the efforts of volunteers and enthusiasts.
HOBART | The Maria Reiner Center plans to celebrate its first anniversary with a Murder Mystery Dinner at 4 p.m. Aug. 5 at County Line Orchard, 200 S. County Line Road.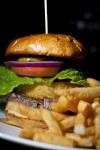 Phil Potempa's daily entertainment news column.

Most Popular
Poll
Loading…
Should Winfield hire a town marshal and deputies?