Diesel
South Shore Clean Cities, BP's Whiting Refinery and a host of environmental groups are partnering to provide grants aimed at improving air quality in Lake County.

HAMMOND | A park could be built over the space where a BP Products North America pipeline cracked and leaked 31,000 gallons of fuel into groundwater last year.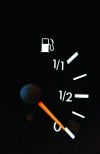 Petrol meter showing no gas in the tank

Poll
Loading…
Will you be glad to see bus service restored in Hammond?