Drazer Park

KOUTS | If building permits for new homes are any indication, the word is out that Kouts is the place to live.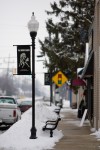 KOUTS | The town put on a prettier face in 2011, and the makeover is expected to continue this year.
KOUTS | The Town Council's approval of funding for a new pathway has boosted the Park Board's efforts to attract more people to Drazer Park.

Poll
Loading…
Should Winfield hire a town marshal and deputies?