Duke University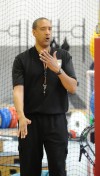 Greg Murray awoke at 1 a.m. Monday when his cellphone rang.

Phil Potempa's daily entertainment news column.
OAK LAWN | When the social worker at Advocate Hope Children's Hospital approached Becky Petreikis on Wednesday and told her Seth Petreikis was going to Duke University Medical Center on Monday, it took a moment for the news to sink in.

Poll
Loading…
Should Porter County Auditor Bob Wichlinski adjust wages to reflect cross-training in his streamlined office?