Dylan Morang

Take a bow, Duneland Athletic Conference.

Dylan Morang, Wisconsin-Whitewater football, 2013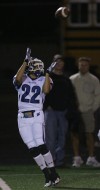 Lake Central's Dylan Morang pulls down a pass near the end zone against Portage last season. The senior wide receiver hopes that his program continues its return from the dead.

Poll
Loading…
Do you agree with the administrative merger of Purdue University's Hammond and Westville operations?