Edible Plants
HAMMOND | An Edible Plants program will be presented at 1 p.m. Sunday, at Gibson Woods Nature Preserve, 6201 Parrish Ave.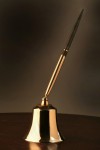 Rings a bell

Sweet potato vines decorating window boxes? Blueberry plants prized more for their foliage than their fruit?

Most Popular
Poll
Loading…
Should Winfield hire a town marshal and deputies?