Educational Psychology

Kids are naturally curious and are full of questions about the world around them. Parents and teachers can help keep that curiosity alive by finding ways to make learning about science fun and engaging.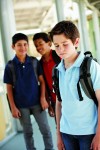 Kids who suffer psychological damage undergo brain changes that render them less able to control their aggression as adults, according to a study published this week by Swiss researchers.

One would think receiving a report card laced with A's would be a satisfying experience. However, I recently learned firsthand that this is not always the case.
7 Day home Delivery $2.25 a week!

Chambers of commerce across the region are teaming u…
Poll
Loading…
Who should win the Democratic nomination for Lake County assessor?