Electronic Cigarettes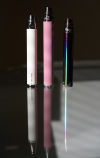 Tucked behind a shopping plaza on a quieter stretch of U.S. 41 in St. John, a small shop is part of the booming industry of electronic cigarettes.
INDIANAPOLIS | Happy fiscal new year, Hoosiers!
SPRINGFIELD | Minors statewide would not be able to buy electronic cigarettes under a plan unanimously endorsed in the Senate Tuesday.
Poll
Loading…
Do you expect the former Sheraton Hotel in Gary to be demolished by the end of the year?