Farmland
Lake County farmland sold at auction for $10.4 million this week, a signal that demand remains high in spite of rising prices.
Regarding Bill Kowalski's June 12 letter, between 2000 and 2008 more than 700,000 acres of Hoosier farmland were devoured by urban sprawl. Less has disappeared since 2008 and only stalled by the recession.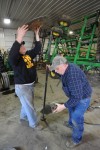 Hoosier homeowners still are feeling the sting of the recession as property values are sticking in the doldrums after hitting peaks in recent years.

Poll
Loading…
Do you agree with the administrative merger of Purdue University's Hammond and Westville operations?