Ferralloy
PORTAGE | Welding may have sparked fire in an industrial oil pit at a company at the Port of Indiana Thursday morning.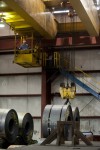 A crane operator lifts a steel coil last October in the Portage Feralloy facility. Portage has a strong industrial sector.

Poll
Loading…
Should Porter County Auditor Bob Wichlinski adjust wages to reflect cross-training in his streamlined office?