Food Choices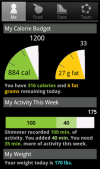 So, once again, you resolve to lose weight for the New Year. There's an app for that; or, rather, more apps.
SPRINGFIELD | Hold the french fries. Cancel the pizza. Skip the corn dog.
Chambers of commerce across the region are teaming u…

$75 Cleaning and Sealing Services coupon for $10
Poll
Loading…
Should school boards restrict public comment at meetings?