Gallup
The legal sale of recreational marijuana began Wednesday in Colorado and will be followed later this year by Washington state, but Hoosiers shouldn't hold their breath about that happening any time soon in Indiana.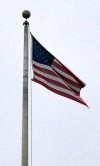 On Independence Day, we urge Americans to take time not only to celebrate, but also to recognize the responsibilities of citizenship. There's no free ride here.

If you think of the region as something less than paradise on Earth, apparently you are not alone or even in the minority.
Poll
Loading…
Do you expect the former Sheraton Hotel in Gary to be demolished by the end of the year?