Generation Y

What would we do without social media? I ask myself this question time and time again; however, as a teen I'm not sure what I would do without it. I do know I would be lost.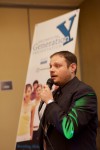 HOBART | Generation Y, those born between 1981 and 2000, currently represent 25 percent of the American workforce, and are the employees of tomorrow.
Matt Charney, Monster.com's social media engagement manager, will present a workshop for businesses on recruiting, hiring and retaining young people in their 20s, often referred to as Generation Y, at noon Nov. 16.
Poll
Loading…
Do you expect the former Sheraton Hotel in Gary to be demolished by the end of the year?