Georgetown University
INDIANAPOLIS | A former Andrean High School cross-country star is spending his summer running around the nation's capital on behalf of U.S. Sen. Dan Coats, R-Ind.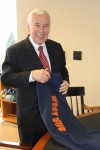 WASHINGTON | Richard Lugar takes a seat at a well-worn circular conference table. In an office filled with shiny, new fixtures, it's a notable relic from his 36-year career in the Senate.

With more than three decades of reporting on Chicago politics—which many liken to a blood sport—Mike Flannery, the political editor at FOX Chicago News, probably has the most upfront and personal inside knowledge of city and state politics. Flannery, who grew up in Washington, D.C., and grad…

Most Popular
Poll
Loading…
Should Winfield hire a town marshal and deputies?