Golden State Warriors

GRIFFITH | Pro football has the Manning family.

As his name implies, Kenny Lone Eagle is a Native American. You know, the people we used to call Indians and whose butts John Wayne kicked in all those movies.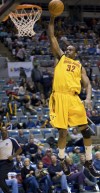 None of this makes any sense to me. Why isn't Chris Hunter on an NBA roster? At 6-foot-11 and 250 pounds, certainly someone out there needs a "big" for spot duty off the bench, a guy to eat up minutes.
Poll
Loading…
Should Indiana switch to open primary elections?