Great Britain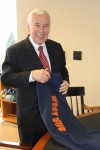 INDIANAPOLIS | A third European nation is set to honor former U.S. Sen. Dick Lugar, R-Ind., for his international relations achievements, and work toward nuclear disarmament.

A bad economy indirectly inspired a Valparaiso resident to turn his longtime passion into a full-time business.

Well, the weekend has come and gone and Will and Kate still are married.

Poll
Loading…
Do you agree with the administrative merger of Purdue University's Hammond and Westville operations?