Greg Steuerwald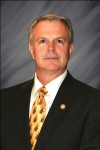 Indiana state Rep. Greg Steuerwald, R-Avon, represents the 40th District.
INDIANAPOLIS | Five years of bipartisan review, debate and negotiation paid off Wednesday as a House committee unanimously approved the first major overhaul of Indiana's criminal code since 1977.
INDIANAPOLIS | The Indiana House agreed to add a right to resist police to the state's self-defense law Thursday in response to a May 2011 Supreme Court ruling that said Hoosiers never can resist police.

Most Popular
Poll
Loading…
What should be the top focus at Gary/Chicago International Airport?