Hammod

Every computer is being used in the computer lab Tuesday as Scott Middle School eighth-graders participate in a Junior Achievement program called JA Finance Park. It introduces them to bill paying, budgets and income generation.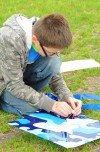 Zach Bane, 10, assembles a kite Saturday at the Wetland, Wind & Water Festival at Wolf Lake. Calm winds prevented the scheduled kite flying.
Michael Boos, left, executive director of the Association for the Wolf Lake Initiative, and volunteer Michael Brennan carry a canoe to the Wetlands, Wind & Water Festival on Saturday at Wolf Lake in Hammond. The festival continues Sunday on the Illinois side of the lake.

Poll
Loading…
Has your family been affected by drug abuse?