Hoarders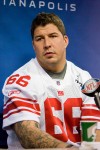 INDIANAPOLIS | James Brewer painstakingly decorated the New York Giants' offensive line room for Christmas, carefully crafting holiday décor and even building a faux fireplace to adorn one wall.

WESTCHESTER TOWNSHIP | A day after 55 dogs were removed from a rural home, police and animal control officers returned and took another 27 dogs.
HOBART | A second house the city has deemed unsafe needs a major cleanup, officials said.
Poll
Loading…
Do you expect the former Sheraton Hotel in Gary to be demolished by the end of the year?