Hobart Firefighters
HOBART | Mayor Brian Snedecor hopes to fill the vacant fire chief position with someone from within the department.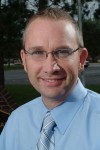 HOBART | Fire Chief Brian Taylor will be retiring from the Hobart Fire Department effective June 30 and heading immediately to a different branch of public service, city officials announced Tuesday.
HOBART | Hobart Firefighters Local 1641 is promoting the screening of the documentary "Burn" at the downtown Art Theater on May 23.
Poll
Loading…
Should Indiana switch to open primary elections?