Hobart Firefighters
HOBART | Mayor Brian Snedecor hopes to fill the vacant fire chief position with someone from within the department.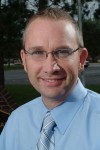 HOBART | Fire Chief Brian Taylor will be retiring from the Hobart Fire Department effective June 30 and heading immediately to a different branch of public service, city officials announced Tuesday.
HOBART | Hobart Firefighters Local 1641 is promoting the screening of the documentary "Burn" at the downtown Art Theater on May 23.

Poll
Loading…
Will you be glad to see bus service restored in Hammond?