Hole In One

Gene Swedler, 59, of Lynwood, recorded two holes-in-one in a span of three days at Glenwoodie Golf Club.

GLENWOOD | One Sunday afternoon, Gene Swedler ran into a little trouble on Glenwoodie Golf Club's hole No. 5.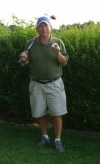 Randy Drummond bought lottery tickets last weekend, and I don't blame him for trying to extend his good fortune.

Poll
Loading…
Has your family been affected by drug abuse?