Home Insurance
HEBRON | The town's 2014 budget was introduced at Tuesday's council meeting estimating an additional $30,000 in income for the general fund levy, but that wasn't the biggest change from this year.
MERRILLVILLE | A Merrilliville couple stole more than $86,000 through false claims filed with home and vehicle insurance companies, federal authorities allege.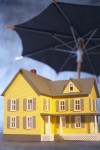 "You're going to need homeowner's insurance."

Poll
Loading…
Do you agree with the administrative merger of Purdue University's Hammond and Westville operations?