Horizon Financial Management

INDIANAPOLIS | The state's commerce agency has finalized a record number of incentive deals with Hoosier companies planning to expand their existing operations and out-of-state companies promising to relocate to Indiana.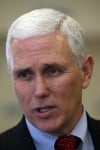 INDIANAPOLIS | Gov. Mike Pence has a simple explanation for why he's not hanging around the Statehouse while the Indiana General Assembly is in session – it's jobs.

MERRILLVILLE | Gov. Mike Pence on Friday made his first major job creation announcement in the region since taking office.
Poll
Loading…
Should every unit of local government ban nepotism?