Hornets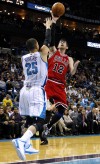 NEW ORLEANS | Even if Derrick Rose wasn't ready to return, the Bulls got healthier as a team over the All-Star break — and it showed.

There's a reason the age-old expression "Stepping into a hornet's nest" carries such strong connotation.

Poll
Loading…
Will you be glad to see bus service restored in Hammond?