Horton Hears A Who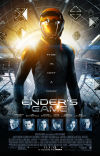 1.ENDER'S GAME

From books and games to educational toys and DVDs, there's never a dull moment for active and eager young minds.
In a "forest-for-the-trees" scenario, Valparaiso Community Schools board President James Sarkisian apparently couldn't see the disgruntled mob at Monday's board meeting for all the people standing in his way.
Poll
Loading…
Should Indiana switch to open primary elections?