Hot-rolled Steel

Antidumping tariffs will keep China, India and other countries from flooding the U.S. market with hot-rolled steel for at least another five years.
Current tariffs prevent China, India and other countries from dumping hot-rolled steel in the United States, and a bipartisan group of U.S. Senators hope to keep it that way.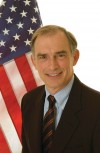 A group of legislators and executives from domestic steel companies is supporting the extension of duties on certain imported steel products from Brazil, Russia and Japan.

Poll
Loading…
Should Porter County Auditor Bob Wichlinski adjust wages to reflect cross-training in his streamlined office?