Illanegg

Karyna Chmielowski, 1.5 years old, grabs for her favorite-colored egg Saturday at the annual Easter egg hunt sponsored by Lan-Oak Park District in downtown Lansing.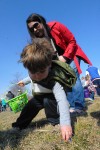 With his egg basket nearly full, Luke Efantis, 2, reaches for another egg while Melissa Efantis watches at the Lan-Oak Park District's annual Easter egg hunt Saturday in downtown Lansing.

Poll
Loading…
Should Porter County Auditor Bob Wichlinski adjust wages to reflect cross-training in his streamlined office?