Ilsvgarden

Cook County Farm Bureau representative Nancy Pollard, left, spots a swallow butterfly larva as Nancy Fiesler, extension master gardener of University of Illinois, takes a quick picture on Wednesday morning at the McConathy Public Library garden.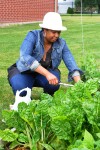 Sauk Village resident Delma McDowell snips a few Swiss chard clippings for her home recipes from the community garden on the east side of McConathy Public Library on Wednesday morning.

Poll
Loading…
Are you content to let the courts rule on the fate of same-sex marriage?