Indiana Distressed Unit Appeals Board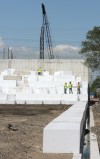 INDIANAPOLIS | Griffith leaders were ecstatic Friday after Republican Gov. Mike Pence signed into law mandatory reductions in Calumet Township spending and a path for Griffith to exit the township if its excessive spending continues.
The legislation that enables Griffith to exit Calumet Township is acceptable, but realize that this is a Band-Aid and not a permanent solution.
A Gary resident and business owner said the city's new population figures bolster an argument he made to the state last year regarding the impact of high city property taxes.

Poll
Loading…
Are you content to let the courts rule on the fate of same-sex marriage?