Indiana Works Council
Indiana has made great progress in the past year. Unemployment has dropped below 7 percent, and we rank fifth in the nation in private sector job growth. Indiana is consistently recognized as a great place to do business. Site Selection Magazine recently ranked us as the most competitive sta…
VALPARAISO │ Addressing the "education to employment" crisis in Northwest Indiana will be the goal of the newly created Region 1 Indiana Works Council, which had its first meeting Friday at Ivy Tech Community College.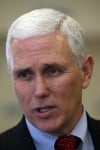 INDIANAPOLIS | Gov. Mike Pence has a simple explanation for why he's not hanging around the Statehouse while the Indiana General Assembly is in session – it's jobs.
Poll
Loading…
Should Indiana switch to open primary elections?