Ironman Triathlon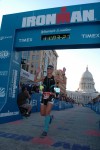 Every triathlete who dreams of finishing an Ironman imagines hearing Mike Reilly, the "Voice of the Ironman," saying the magic words. A 42-year-old Valparaiso mother of four heard them early Sunday evening in Madison, Wis.

VALPARAISO | The city has earned several awards since Jon Costas became mayor in 2004, but he never worked so hard to accept them in the past as he did for a recent honor for the city's wellness program.
VALPARAISO | Mayor Jon Costas will be involved in a couple of big races in the coming week.

Poll
Loading…
Should Indiana have kept the Common Core standards for K-12 instruction?