Jack Lew
Indiana is the "Crossroads of America." We are the second ranking automobile manufacturer in the nation.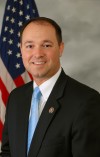 After a decade of borrowing, spending and bailouts, the federal government has accumulated $16 trillion of debt. We face this problem because Washington spends too much, plain and simple.

Poll
Loading…
Should Porter County Auditor Bob Wichlinski adjust wages to reflect cross-training in his streamlined office?