Jason Gasser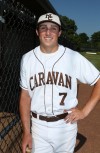 CHICAGO | Jason Gasser doesn't wonder just how good he would have been if he had concentrated on baseball.

Big games are noting new for Mount Carmel center fielder Jason Gasser.

If you watched Mount Carmel wide receiver Jason Gasser, you would think the Caravan were going deep on every play.

Most Popular
Poll
Loading…
Do you agree with the administrative merger of Purdue University's Hammond and Westville operations?