Jerry Hall

A few years ago, I thought I had found a useful role model in Frank Lloyd Wright. Broke and a social pariah who had alienated all of the few friends he ever had, at the age of 70-something he wrote an autobiography about how great he was. He started a school for architects and proceeded to b…
A few years ago, I thought I had found a useful role model in Frank Lloyd Wright. Broke and a social pariah who had alienated all of the few friends he ever had, at the age of 70-something he wrote an autobiography about how great he was. He started a school for architects and proceeded to b…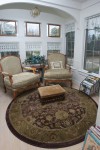 Visitors to South Haven, Michigan, enjoy a great selection of accommodations, but some of the most inviting are a trio of notable inns about a block apart from each other near Stanley Johnston Park.
7 Day home Delivery $2.25 a week!

Chambers of commerce across the region are teaming u…
Poll
Loading…
Who should get the Democratic nomination for Calumet Township trustee?