John White

KOUTS | Technology took center stage during a federal education official's visit to Kouts schools Thursday.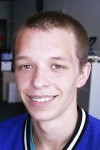 John White, Crown Point | "More classrooms so teachers could focus on getting to know the kids better. More art classes because they're starting to disappear."

Poll
Loading…
Has your family been affected by drug abuse?