Keaton Lyons

The University of Saint Francis (Fort Wayne) football team had its season come to an end Saturday in a 28-14 loss to the University of Cumberlands in the quarterfinals of the NAIA Football Championship Series.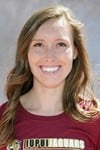 She's back at it again.

Most Popular
Poll
Loading…
Are you content to let the courts rule on the fate of same-sex marriage?