Laura Wynn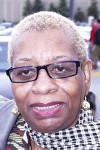 Laura Wynn, Merrillville | "It's important to be all-inclusive and not discriminate. Exclusion is not living up to what this country is about. There should be no discrimination for anyone."
It's often said that parents should be more involved in their children's education. I agree. But at the college level?

Poll
Loading…
Has your family been affected by drug abuse?