Lesbian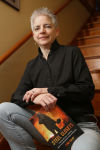 GARY | Two women who worked at a local steel mill hid a secret from their co-workers – they lived together and were romantically involved.

Phil Potempa's daily entertainment news column.

CHICAGO | You've probably never heard of Holly Peterson or Jonathan Jean-Pierre. One came out as a lesbian at age 15, when she was playing high school basketball. The other, a college rower, told his teammates last year that he's gay.
Poll
Loading…
Should every unit of local government ban nepotism?