Librarian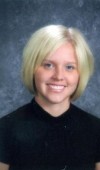 If the situation were not so serious, it would be laughable. How can we improve reading achievement if we make it more difficult to put books in the hands of our children?

HEBRON | Students arrived early Friday to Hebron Elementary School to listen to stories, play in the dirt and eat dirt pudding loaded with gummy worms.

Poll
Loading…
Do you agree with the administrative merger of Purdue University's Hammond and Westville operations?