Light Therapy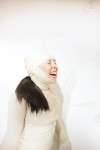 Losing weight can be a long process and often involves eating better and exercising. But a local store is making weight loss more interesting by offering unique methods to help shed the pounds.
When you catch a glimpse of yourself in a storefront window, do you wish those abs and arms were better defined? That your face still had that youthful tone? That your whole image reflected the refreshment of night after night of full, restful sleep? Then this news is for you: 7e Fit Spa cli…
Poll
Loading…
Should Lake County join the Shared Ethics Advisory Commission?