Lincoln Square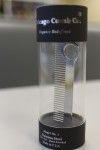 Not all of today's new business ideas are high-tech. At first glance, a company that makes only combs might seem as low-tech as it gets. But behind the simple stainless steel design of Chicago Comb Co.'s "Model No. 1" is an advanced laser cutting system.

This new machine, called the off-axis neuromuscular trainer, is an offshoot of the trusty elliptical trainer that has been a workout favorite for decades.

Most Popular
Poll
Loading…
Should Indiana be aggressive in offering incentives to Boeing in hopes of landing a new jetliner assembly plant?