Lionel Shriver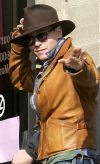 I still have not gotten around to reading the Harry Potter books or even Cuckoo's Calling, but you have to have goals for 2014 besides just going to the health club more often. --- Pat Colander, Associate Publisher and Editor, Shore Magazine.

Some people read the death notices. I'm more interested in the life notices—birthdays. Olivia de Havilland turned 97 July 1st. Quite an accomplishment. If you go on Google maps you can see the neighborhood where she lives in Paris is one of those nice ones halfway out from the Arc d' Triumph…
Poll
Loading…
Should Indiana switch to open primary elections?