Lord S Prayer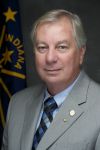 I was disappointed to read Rich James' recent column, "Sen. Tomes pistol-whips gun control." His column was rife with error and made attacks on my personal character. It's discouraging that this type of reporting passes as journalism today.
I don't believe I have ever been to Posey County in far southwest Indiana.

It's a sad day for Indiana, one of a plethora, when the chairman of the state Senate's Education Committee thinks the top priority for improving our mediocre, at best, educational system is to require the reading of the Lord's Prayer in schools.

Poll
Loading…
Do you agree with the administrative merger of Purdue University's Hammond and Westville operations?