Maine Coon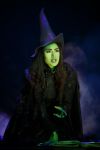 Megan Gauler, 18, of Kouts remembers her first stage encounter with the witches of Broadway's record-breaking box office smash "Wicked."

What is it about a tiny, fluffy kitten that makes them so hard to resist? For many, it's their looks. Appearance is one of the primary factors when choosing a feline friend, while dog owners tend to focus on size.

Poll
Loading…
Will you be glad to see bus service restored in Hammond?