Marisa Luisa Garcia Verdugo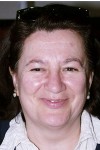 Marisa Luisa Garcia-Verdugo, Valparaiso | "Some are. The families help them, and it's important they participate in school and extracurricular actives. I think there are many children that don't have the overall support to achieve their potential."

Poll
Loading…
Do you agree with the administrative merger of Purdue University's Hammond and Westville operations?